GPS Marine Antennas
Marine GPS antennas, examples
Below are examples from PROCOM's GPS marine antenna product line.

Please notice that more GPS marine antennas are available in the PDF Product Catalogue. Look for the "GPS" label in the index.

For mobile applications, see the Mobile GPS Antennas.
SEE ALSO:

Products site map
VHF marine antennas, examples
TETRA marine antennas, examples
Multi-band VHF antenna products
Mobile GPS antennas




GPS 4/... Active Receiving Marine Antenna for the
1575 MHz NAVSTAR GPS Satellite Navigational System

Full hemispherical coverage due to quadrifilar helix antenna element.
Built-in high gain, low noise amplifier.

Input filter for thorough RF-overload protection.

Right-hand circular polarisation (RHCP).

High rejection of cross-polarised reflections prevents fading caused by multipath propagation.

5 V supply voltage (3 V respectively 12 V available on request).

DC supply via RF-connector.

EMC tested to IEC 801 and IEC 255.

Total design carried out to make the antenna withstand tough environments.

Comprehensive range of accessory mounting brackets available.

Download PDF file for further details and specifications about the GPS 4/... antenna.

Please notice, more products are available in the PDF Product Catalogue.
Brand New Amplified Remote Marine GPS Antenna for




All GPS Units with BNC Antenna Connector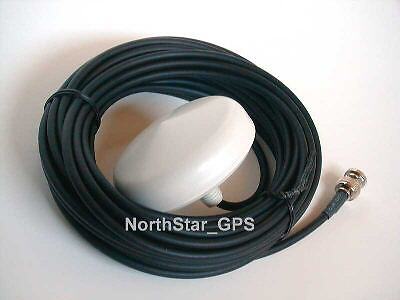 This is an innovative design external marine GPS antenna with excellent performance and superb quality. With it, your GPS will catch more satellites and get stronger signal. It is ready to plug in and use.
Features:
Ultra high signal gain: 32 dB to 55 dB Gain
Low power consumption: 25 mA
Low noise: noise figure less than 1.8dB at f0
Power Protection Circuit
Power Input Sensor: Reverse polarity short circuit shutdown
Over-Current Sensor: Thermal over-current shutdown
Output Impedance: 50 ohms
Power Input: 3V DC to 12V DC input
Super strong polycarbonate radome
Durable, waterproof housing, molded cable
BNC Connector
Physical dimensions: 3.1" x 2.3"
30 feet heavy duty cable Compatible with the following Garmin GPS units:
Garmin StreetPilot GPS, StreetPilot GPS ColorMap, StreetPilot III GPS, StreetPilot III Deluxe, GPS II, GPS II+, GPS III, GPS III+, GPS III Pilot, GPS V, GPS 15, GPS 15L, GPS 15H, GPS 45, GPS 45XL, GPS 48, GPS 50, GPS 65, GPS 75, GPS 89, GPS 90, GPS 92, GPS 95XL, GPS 100, GPS 100STD, GPS 120, GPS 120XL, GPS 125 Sounder, GPS 128, GPSMAP 130, GPS 135, GPSMAP 135 Sounder, GPSMAP 152, GPSMAP 162, GPSMAP 168 Sounder, GPSCOM 170, GPSMAP 172, GPSMAP 172C, GPSMAP 176, GPSMAP 176C, GPSMAP 178, GPSMAP 178C Sounder, GPSMAP 180, GPSMAP 182, GPSMAP 182C, GPSMAP 185 Sounder, GPSMAP 188 Sounder, GPSMAP 188C Sounder, GPSMAP 192C, GPSMAP 196, GPSMAP 200, GPS 205, GPSMAP 210, GPSMAP 215, GPSMAP 220, GPSMAP 225, GPSMAP 230, GPSMAP 232, GPSMAP 235 Sounder, GPSMAP 238 Sounder, GPSMAP 276C, GPSMAP 292, GPSMAP 298 Sounder, GPSMAP 295, GPSMAP 296, GPSMAP 376C, GPSMAP 378, GPSMAP 396, GPSMAP 398, GPSMAP 398C Sounder, GPSMAP 478, GPSMAP 492, GPSMAP 492C, GPSMAP 496, GPSMAP 498, GPSMAP 498C Sounder, NavTalk Pilot

It will also work with any other GPS receivers with BNC antenna connector.
Comparable to Garmin GA 29 low profile remote marine antenna (Garmin # 010-00174-00 )

We are so sure you'll like our antenna, we are offering a 30 day money back satisfaction guarantee.
---
Terms:
Shipping and handling are $10.49 for anywhere within the US via US Postal Service First-Class Mail.
No sales tax!

S & H are $11.99 for Canada, and $14.99 for anywhere outside the US and Canada via US Postal Service Air Mail.

We can combine shipping. We're happy to offer a $2 discount on shipping for each additional item.
All products are shipped within 24 business hours of payment received.
We accept PayPal, money orders, cashiers check, Bidpay.


Compact High performance Pathfinder 24" 4KW Radome Antenna for E and C Series Navigational Display.


RD424 Features include:
4kW power output
48NM Range
Plug and Play compatibility with Raymarine C and E-Series multifunction navigation displays.
New and improved dome housing.
Improved radiation pattern and bearing resolution using Propagation Enhancing Geometry.
Advancedmicroprocessor controlled transmitter receiver features 8 Pulsewidth/PRF settings, providing enhanced targets returns though everyrange scale.
Improved sensitivity, signal to noise ratio, and a lower overall receive noise figure.
Same mounting pattern as previous generation radomes.